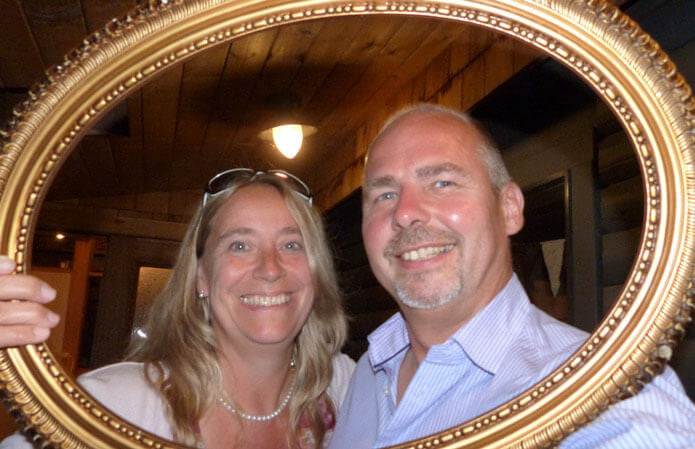 Our Personal Journey
We're Kirsten and Hartmut, your Christmas enthusiasts, ready to take you on a journey filled with the delightful scents of the holiday season in Canada and the United States.

Fast forward to 2011, we decided to take the leap of a lifetime. We bid adieu to our jobs in Germany and made Vancouver our new home. Why, you ask? Because Vancouver is a city known for its livability and, more importantly, we found out it hosts a German Christmas Market. It felt like a slice of home right here in Canada.

And so, in 2014, nowadays even with German and Canadian citizenship, we set out to make our dreams a reality. We built a business centered around the scents of Christmas that we adore so much.
About us
Picture this: Two folks from Germany with an insatiable love for all things Christmas. Our story began in 2000 when we had our first taste of Canada. Canada, with its warm-hearted people had us head over heels, and we were hooked.

Over a decade later, here we are, living the dream in Vancouver, where the aroma of Christmas is a year-round delight. We've made a life out of sharing the enchanting smells of the holiday season with others, and it's a journey we wouldn't trade for anything in the world.
Our Business Idea - Sharing the Sense of German Christmas with you!
Close your eyes and imagine a couple from the heart of Germany, absolutely captivated by the sense of holiday gatherings. We decided to share the magic of traditional German Christmas with our newfound Canadian friends. And that's how our family-owned business came to life! With the timeless allure of HUSS burners and cones we handpicked a treasure that resonate with the true spirit of the festive season.
But what sets us apart isn't just the quality of our products; it's the genuine connection we forge with our amazing customers. Every item we import is more than just décor; it's a piece of our story, wrapped in the warmth of togetherness and celebration.
We're not just importers; we're storytellers.
Each item we bring to you carries a fragment of our heritage and the joy we experienced while strolling through Christmas markets in Germany. It's like inviting a bit of our cherished family traditions into your home, and nothing warms our hearts more.
So, as you explore our collection, remember you're not merely shopping; you're becoming part of our festive family. You're embracing the essence of Christmas that we hold so dear. Together, we're not just celebrating a holiday; we're sharing a piece of our hearts with you.
Thank you for joining us on this magical journey. Your smiles, your joy, and your shared enthusiasm make every day feel like Christmas morning. You, our incredible customers, have given us the most precious gift – your trust. Your regular 5-star reviews for our product quality and exceptional customer service are our most cherished compliments.
Here's to more laughter, more twinkling lights, and more cherished moments together.
Let's keep the sense of Christmas alive, all year round! 🎄✨
Customer Testimonial
HUSS IS THE BEST!
We like to support a family business, and this one has been around for a long time. My brother bought me Huss Incense Cones when he was in Germany years ago. Why buy anything else.
Review by Ellen M. on 7 Feb 2021
Ellen M. -Verified Buyer
5.0 star rating